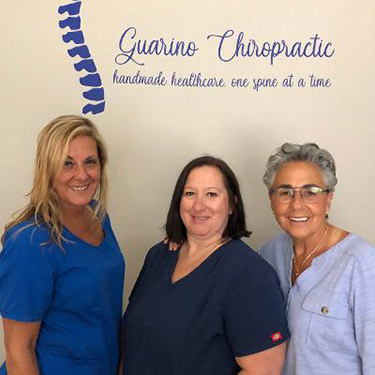 About Us
Dr. Sue Guarino was born and raised in Montclair, New Jersey. Her family was heavily influenced by chiropractic thanks to her Uncle Arnold, who was a chiropractor for many years in New Rochelle, New York. He inspired several members of the family to join the health care profession. Dr. Sue knew early on in life that she would go into natural healing. After completing her education at New York Chiropractic College, she chose to remain in her home area and established Guarino Chiropractic in 1977.
Mission Statement
Our chiropractic care center is dedicated to all who enter here. Our purpose is to support each individual in achieving their optimum health through a properly functioning, well-balanced nervous system. To educate each person so that they may understand alternative ways of maintaining their health so they can live a less drug-dependent life, and understand the health benefits of wellness chiropractic.
Discover a Better Way to Life
Dr. Sue prides herself on educating patients about alternative and holistic approaches within health care. Healthy spinal mechanics are a vital part of your overall wellness lifestyle. The patients who can benefit from care are seemingly limitless, ranging from an infant to a 100-year-old. When you are under regular chiropractic care, your nervous system can function at its highest potential.
MEET DR. SUE GUARINO »
Chiropractic Goes Beyond Pain Relief
When you think of chiropractic, what comes to mind? Likely, it's neck or back pain. For years, people have found that chiropractic provides a fantastic solution for pain. But what you may not know is that discomfort isn't what a chiropractor focuses on. With a gentle adjustment, the goal is to restore your nervous system function. When you have periodic spinal checkups, you have the ability to enjoy great health for life.
Instead of temporary relief like you can get from a pill, chiropractic is about resolving your problem and giving you long-term results.
Join Our Chiropractic Family
We'll take care of you just like we would one of our loved ones. Contact Guarino Chiropractic today to schedule your first appointment!
---
About Guarino Chiropractic | (973) 759-3600