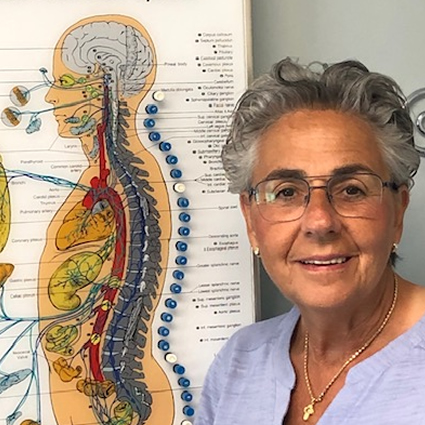 Meet Dr. Sue Guarino
Carrying on a Family Tradition
Dr. Sue was first introduced to chiropractic while young thanks to her dear Uncle Arnold, who was a chiropractor in New Rochelle, New York for years. Uncle Arnold motivated several family members to join the health care profession. These include Dr. Sue's eldest brother who is an internist, her brother who was a chiropractor before his death, Dr. Sue's twin brother who is a cardiologist as well as her niece and nephew who are chiropractors.
Hailing from New Jersey, Dr. Sue grew up in Montclair and attended Immaculate Conception High School there. The next step was Union College, followed by New York Chiropractic College. Her clinical experience was completed in Manhattan, where many of her patients were students from Juilliard.
After earning a Doctor of Chiropractic, Dr. Sue opened Guarino Chiropractic. The office was originally located in Bloomfield, but moved to the current location in 1983.
Helping You Enhance Your Overall Lifestyle
Over Dr. Sue's many years in practice, she has discovered the power of a full lifestyle of wellness. This includes chiropractic care, the right nutrition and proper exercise. She has a passion for helping people through their challenges in life.
I love working one-on-one with people. It's great to see them get off the table and say, 'I feel so much better.'
Enjoying Life in Our Community
Dr. Sue is a community-minded person who has participated in various activities over the years. She was on the state association chiropractic board, serving as secretary for some time. Additionally, she was on the advisory program at Bloomfield High School for many years. In her spare time, you'll find Dr. Sue at her happy place: the beach. She also enjoys reading, particularly biographies.
Get Started Today
Contact Guarino Chiropractic now to schedule your first appointment! Same-day visits are often available.
---
Dr. Sue Guarino | (973) 759-3600