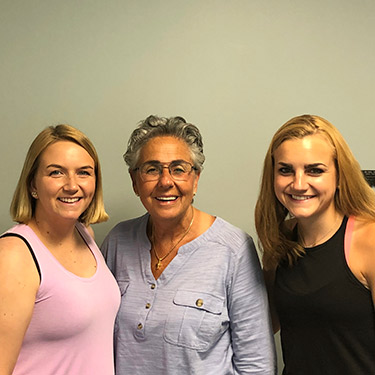 Guarino Chiropractic Reviews
What Our Belleville Patients Say
At Guarino Chiropractic we love when patients share with us their feedback and comments after chiropractic care. Please read our patient testimonials below to see what other people have achieved through their tailored treatment plans with us. Share your stories too! Click here to send us your feedback so that we can help to spread the word about the benefits of natural Guarino Chiropractic care. For more information, or to schedule an appointment contact us today.
---
Effective Approach
Dr. Sue Guarino is simply the best chiropractor out there! She takes time to understand your physical symptoms or difficulties and comes up with a course of treatment that provides relief. The office is clean and comfortable, and her staff is terrific. I wholeheartedly recommend Guarino Chiropractic for an effective natural approach to health and healing.
– J. B.
You're the Best!
Dr. Sue and the staff are extremely attentive and make sure you're comfortable before any treatment. They are very friendly and you feel as you're amongst friends. Dr. Sue is very thorough before starting any manipulation and shares her knowledge if you need any information. I came in with neck pains and after a couple of adjustments the pain was gone but I feel very good continuing the adjustments because they help with your overall health. Thank you Dr. Sue and staff. You're the best!
– Teodora T.
Caring and Helpful
I love the customer service from the staff to the doctor! The doctor is knowledgeable, caring, helpful, easy going and very friendly. I've been going to Dr. Guarino for a month now and my back as been coming feeling better. I would definitely recommend Doctor Guarino, she will not only help align your back and neck but she will help you with your health and other daily routines you do that will help you live and feel better.
– Odaliz N.
5 Stars
Professional office dedicated to true chiropractic healing. Dr. Sue is a skilled doctor who treats each patient with individual care and attention. She goes above and beyond what you'd expect at a regular visit, and she and her staff are adept in administering required treatment without ever making you feel rushed. Her DRX machine definitely puts her above and beyond the capability of most chiropractors in the area. Both she and her office staff make you feel like family, and it is that personal touch that sets her apart from others and makes her deserving of nothing less than a 5 star rating!
– Linda G.
Highly Recommend
Dr. Sue and her staff are exceptional. Everyone is treated very warmly. Also, It is a great family practice center. Dr. Sue is a master Chiropractor and very knowledgeable. Highly recommend.
– Lois V.
Excellent Chiropractor
Dr. Sue is not only an excellent chiropractor but she is also a very kind and compassionate doctor. Dr. Sue and her staff are all amazing. They make you feel right at home and I always leave there feeling better.
– Dawn S.
Efficient Treatment
Dr.Sue is always willing to see you when you hurt the most – or just need an adjustment. Very careful with her diagnostic, she explains thoroughly what treatment will be applied and what results can be anticipated. Always cheerful, Dr. Sue is a pleasure and relief to visit and her staff is most accommodating. Highly recommended for efficient treatment.
– Michele G.
---
Reviews for Guarino Chiropractic | (973) 759-3600