Spinal Decompression at Guarino Chiropractic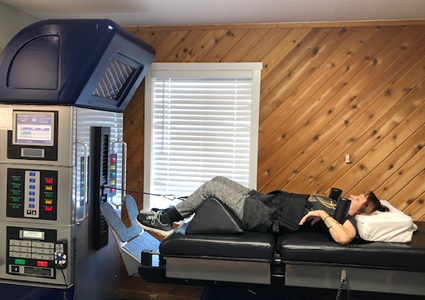 Have you seen other doctors for your disc-related problems, but haven't gotten any results? Perhaps you're considering surgery but want to avoid such a risky measure. At Guarino Chiropractic, we offer spinal decompression therapy, a non-surgical alternative that can resolve your disc problems.
Our multi-faceted treatment plan involves spinal decompression therapy with the DRX9000 table. This table isn't like others, which take more of a general approach to treating the spine. Instead, it targets spinal mechanics while decompressing herniated discs, facilitating the healing of your spinal tissues. As a result, your spine is more stable, with a decreased chance of recurrence.
What Spinal Decompression Therapy Can Help
Spinal decompression therapy provides a fantastic option for people seeking the relief of conditions such as
Herniated discs
Protruding discs
Facet syndrome
Degenerative diseases
The Science Behind Spinal Decompression Therapy
When you have spinal decompression therapy, the forces applied to your spine allow your discs to rehydrate. It also elongates your spine, alleviating pressure on the discs and surrounding nerves. If you have a damaged spinal disc, inflammation is present that causes you pain. With spinal decompression, oxygen and nutrients can flow back to the disc, facilitating your healing.
The DRX9000 spinal decompression table uses state-of-the-art computerized technology to apply the exact treatment that's right for you.
Frequently Asked Questions
Am I a candidate for spinal decompression therapy?
Before we embark on any treatment, you will have a consultation with Dr. Sue to get a proper diagnosis and ensure you're a candidate.
Yes. We'll need to look at these images to make sure that your problem is something that can be addressed through spinal decompression therapy.
How often will I need to come in?
The schedule for spinal decompression therapy typically involves coming in 3-4 times a week for a total of 20 visits.
When you have spinal decompression, you'll lie on our comfortable table for about 30 minutes, letting the table do all the work to help your spine.
Yes. Spinal decompression therapy is undertaken as a part of your treatment plan. After your therapy, you'll have an adjustment to make sure the proper corrections are made in your spine.
I might have too much pain to start spinal decompression. How can you help me?
We always begin treatment conservatively. You won't have to worry about a flare-up of your problem when you're done with your session. It starts extremely gently.
How long will my results last?
Dr. Sue brought spinal decompression therapy into the office back in 2001. She has patients who used it then and their symptoms have never returned. It has the potential to be an extremely long-lasting solution.
I see another chiropractor. Can I come to you just for spinal decompression therapy?
Yes. Dr. Sue has many people come in who were referred to her by their chiropractor because she has the DRX900 table. You can come in for spinal decompression therapy, then return to your regular chiropractor for your adjustment.
Call Now
Contact our team today to learn whether spinal decompression Belleville is right for you! Same-day consultations are available. There is no cost to meet with Dr. Sue to discuss spinal decompression therapy.
CONTACT US »
---
Spinal Decompression Belleville NJ | (973) 759-3600